This article is part of the Science in Sci-fi, Fact in Fantasy blog series. Each week, we tackle one of the scientific or technological concepts pervasive in sci-fi (space travel, genetic engineering, artificial intelligence, etc.) with input from an expert.
Please join the mailing list to be notified every time new content is posted.
About the Expert
Sylvia Spruck Wrigley is a pilot and aviation writer who has been obsessing about aviation safety for over a decade. She writes about plane crashes and faeries, which have more in common than most people might imagine. Her short stories have been translated into over a dozen languages. You should follow her on Twitter.
Space Flight in Science Fiction
Science fictional space flight involves three steps forwards and two steps back. Swooping through the sky in a one- or two- man cockpit, surrounded by windows for a clear view of the starry-filled sky, a meaty joy-tick for the controls. The pilots are obviously the epitome of cool (this is of course standard for any pilot!) and piloting a space ship looks suspiciously similar to a video game. The pilot isn't focused on computers and instruments but reliant on fast hand-eye coordination and quick thinking. Space flight is all about the maneuverability, as our trusty pilot stares out the windows to see what's coming.
If there's a fleet, they are all the same way up and neatly lined up. They apparently do this by instinctively knowing the level plane on which they are flying, as if all of the ships were skimming a great invisible lake.
It's true that, if you get your private pilot's license, you will be taught to fly visually: that is, to keep your bearings by staring out the window. Once you progress from there, however, it's all about the glass cockpit and the instruments. Tell fighter-jet pilots that they need to maneuver by looking out the window and they'll laugh you out of the room. That just isn't fast enough.
Meanwhile, in science fiction, it's all about leaning into the curve.
In space, the most common cause of pilot death (after being shot out of the sky with a loud bang) is slow reactions causing the pilot to crash into something solid at full speed.
Visual Flight versus Instrumentation
In reality, though, the most common cause of death for the solo pilot isn't crashing in a high-speed obstacle course, it is falling prey to illusions. The problem with flying is that, if you aren't able to see the ground and a horizon, your brain gets confused and lies to you.
This is why the basic private pilot's license is bound by VFR (visual flight rules) which only allows for flight within sight of the land and with clear visibility. The next stage of training is the instrument rating, which, as the name implies, trains the pilot to rely on the instruments in the cockpit rather than believing his or her eyes.
If you aren't instrument-rated and you fly into a cloud, losing sight of the ground, your life expectancy drops from decades to 178 seconds.
Illusions and Disorientation in Space
So here's the thing: flying in space is a lot like flying in cloud. You have no point of reference for up and down and whether you are flying straight on or in a turn. And once you lose these references, you succumb to disorientation. Technically once you fly away from your colonized planet, if you are still staring outside instead of relying on your flight computer, you are likely to get tangled into an illusion and turn your spacecraft upside down in less than three minutes.
You cannot stop the illusion; the best you can do is train yourself to ignore it. This means disregarding everything your brain and body are telling you and believing the instruments. You need to be looking in, not out.
It's not just humans who have this issue, by the way. Radar studies have shown that, although European Starlings can maintain straight and level flight when flying in overcast conditions, birds flying within the clouds fly erratically, suggesting that they are equally disoriented in the absence of visual cues.
Once you lose that visual frame of reference, your brain lies. Luckily, it lies consistently enough that we've learned to catch it out.
The graveyard spiral is probably the most well-known example of dangerous spacial disorientation. Common in poor weather conditions and night flights, the pilot loses the ability to judge the orientation of the plane.
What happens is that, without visual reference, you enter a banking turn. You initially can "feel" the turn, let's say to the left. However, if the turn continues for twenty seconds or more, you'll end up feeling that the aircraft is no longer turning. It feels absolutely as if you were flying straight with the wings level.
If you try to continue the turn, you'll go into a much steeper left turn. More likely, you'll want to be sure you have straightened out but the straight-and-level aircraft will feel to you as if the aircraft is turning and banking to the right, even thought you are now wings level. The compelling belief that you are now turning right will lead you to go back into the left turn. And the plane very slowly and gently flies in circles, a downward spiral that tightens as the aircraft descends. Your speed will increase until eventually you will escape the clouds and/or impact the ground.
This is the most common of the vestibular illusions.
Medical Facts for Pilots – Federal Aviation Administration
In this kind of turn, the fluid inside the canal starts moving initially, then friction causes it to catch up with the walls of the rotating canal (B). When this happens, the hairs inside the canal will return to their straight up position, sending an erroneous signal to the brain that the turn has stopped–when, in fact, the turn continues.

If you then start rolling out of the turn to go back to level flight, the fluid inside the canal will continue to move (because of its inertia), and the hairs will now move in the opposite direction (C), sending an erroneous signal to the brain indicating that you are turning in the opposite direction, when in fact, you are actually slowing down from the original turn.
The problem with a graveyard spiral in space is that its very existence means you're generating mild gravity as you tighten the spin. But honestly, if we start thinking hard about gravity within our dog-fighting spacecraft, and if we pay too much attention to the science, they'll all implode into a black hole of improbability anyway.
More pertinent for our science fiction stories, then, are the visual illusions which aren't reliant on problematic laws of physics.
Autokinetic effect gives the pilot the impression that a stationary object is moving. Specifically, a stationary small point of light in a dark or featureless environment, like a star-filled sky in space. This illusion is caused by very small movements of the eyes, which the brain misinterprets as movement of the stationary object. It means that we would find it incredibly difficult to tell the difference between a star and an approaching space ship.
The autokinetic effect makes her think that the distant stars are incoming spacecraft coming to shoot her down. Meanwhile, motion-induced blindness makes the actual incoming space craft invisible to her. In Generation Kill, Evan Wright tells how, during the second Gulf War, the US Marines reacted to town lights about 40km away. The autokinetic effect led them to believe that a large combat force was moving out to attack. An airstrike was called in for 15 km away, the estimated position of the lights. There was nothing there.
Motion-induced Blindness in Flight
The opposite effect is motion induced blindness, which causes objects to disappear from sight.
A retired military aviator describes the phenomenon:
This is a great illustration of what we were taught about scanning outside the cockpit when I went through training.

We were told to scan the horizon for a short distance, stop momentarily, and repeat the process. I can remember being told why this was the most effective technique to locate other aircraft. It was emphasized repeatedly to not fix your gaze for more than a couple of seconds on any single object. The instructors, some of whom were veterans with years of experience, instructed us to continually "keep our eyes moving and our head on a swivel" because this was the best way to survive, not only in combat, but from peacetime hazards (like a midair collision) as well.

We basically had to take the advice on faith (until we could experience for ourselves) because the technology to demonstrate it didn't exist at that time.
Here's an animated gif showing the effect: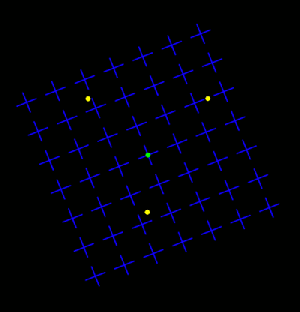 If you move your eyes around as described by the pilot above, the yellow dots remain clearly in sight. But if you focus on the dot in the middle, you'll discover that the dots disappear from view. Michael Bach has a configurable version of this test, in which you can slow the movement right down and increase the size of the dots. They still disappear.
These two illusions alone means that your fighter pilot flying through the stars has two problems.
The autokinetic effect makes her think that the distant lights are incoming spacecraft coming to shoot her down. Meanwhile, motion-induced blindness makes incoming space craft invisible to her.
Now that would be an interesting space battle!
Sylvia's Novella with Tor.com
Editor's note: If you enjoyed this post, you should check out Sylvia's new novella from Tor.com publishing. Fans of Celtic fantasy will love Domnall and the Borrowed Child by Sylvia Spruck Wrigley, which follows a cranky but capable fairy scout who undertakes a dangerous quest to save a fae child who has fallen deathly ill.
Please Share The #ScienceInSF
If you liked this article, please share it with your writing friends using the buttons below. You can also click to send a ready-made tweet:
Click to Tweet Space flight in science fiction, by pilot/aviation writer @akaSylvia: http://bit.ly/1QLihMB Part of the #ScienceInSF series by @DanKoboldt
Click to Tweet The true dangers of space flight for sci-fi authors, by pilot/aviation writer @akaSylvia: http://bit.ly/1QLihMB #ScienceInSF #writetip
Follow me and you'll never miss a post:
Please share this article: